How can I make a booking?
You can contact us via phone +358 16 831 931 or email tuvat@sallatunturi.fi. You can also fill out the inquiry form in the 'contact' tab.
What does the rate include?
Accommodation rates include bed linen, towels and final cleaning. The fire wood are also included in cottages with own sauna.
You can check-in at our reception. Address Hangasjärventie 1, 98900 Salla.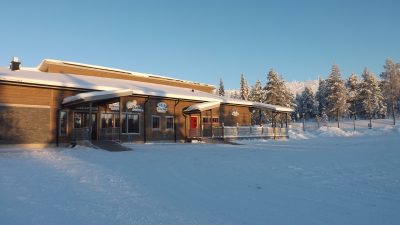 You can get to Salla, located 900 kilometres from Helsinki, by plane, train, car or a bus.
By air: The closest airports are at Kuusamo and Rovaniemi. There is a bus connection to Salla for most Finnair flights arriving at Kuusamo. > Check out the bus timetables on the Pohjolan Matka website.
By train: The closest railway station is at Kemijärvi and there's a bus connection from there to Salla (not on Sundays). > Check out the train and bus timetables on the VR and Matkahuolto websites.
Can I bring my pet to your cottages?
Pets are allowed in most of our cottages. Please check with the reception, which cottages you can stay with pets. For pets we charge an extra fee of 30€ /stay.
Is there an oven in my cottage?
Unfortunately in the cottages with one bedroom, there isn't an oven in the cottage, but there are cooking plates. The cottages with 2 bedrooms or more have an oven.
When can I see the Northern Lights?
In Lapland the northern lights can be seen between August and April, when there's a clear night and activity in the sun. Auroral activity usually peaks at the beginning and the end of the season. Check the weather forecast for clouds. The aurora activity you can check for example on this forecast:
Aurora Forecast
How cold is it there and will there be snow?
Salla is quite known for its cold temperature records in Finland. The coldest we have had is -54,4 °C measured in 1999. But luckily this is not the norm! During the winter months it can be quite cold, but the regular winter temperatures fall somewhere between –5 and –15 °C.
In the summer, it can get as hot as 30 °C, sometimes even more. However the normal summer temperature is around 15 – 20 °C.
In Salla we often get the first snow in October. The permanent snow layer comes normally in November and lasts until April-May. Usually we are able to do winter activities from beginning of December to late April, sometimes even until the beginning of May.
If you are visiting Lapland during winter, get warm clothes. Thermal underwear, a warm hat, thick socks and gloves help out a lot when temperatures drop below freezing. And layers are always handy, you can easily add more on or take some off. If you have trouble finding winter clothes, no worries, warm clothing is included in all guided safaris. You can also rent overalls, boots and gloves from our company. The rate for the week is 35 €/person.
When can I see the Midnight Sun?
During summer. In Lapland, the sun stays up constantly for a month around June-July.
I don't speak any Finnish, is that a problem?
All our staff, and most Finns, speak English, so it shouldn't be a problem.
What time can I check-in?
From 14:00 (2 PM) on. For earlier check-in please contact our reception. Sometimes it's possible to check-in earlier, however this is subject to availability.
At 11:00. You can deliver keys to reception. If you need later check-out time, please contact our reception.
Where can I have breakfast?
Breakfast is available in our restaurant every day during high season from 8:00 to 10:00. Outside the high season, please check the availability at our reception.
Is there wi-fi available?
Yes, free wi-fi is available in all the cottages and in our main building. You can get the password from our reception.
The accommodation rates include one set of towels per customer for the whole stay. If you wish to have extra towels, that can be provided for a price of 3,50 €/towel set. Please contact our reception to get extra towels.
I'm traveling with a baby, can you provide a crib for our room?
Yes, we can provide a crib for your stay. Just let the reception know that you would need one.
Is there a sauna in the cottages, and how does it work?
Most of our cottages have own sauna. Please check with our reception beforehand if you want to have a cottage with an own sauna.
All our saunas work by electric heating. In the stove there are two switches: one for temperature and one for time. The temperature switch is good to have almost at the maximum.
In order to warm up the sauna, turn the time switch clockwise to the closest "2″. If you turn the switch more, the sauna will go on a timer and starts to warm up when it gets to "2".
It takes about 45 minutes for the sauna to be warm. When using the sauna, in Finland it customary to throw water into the stove, that makes the sauna more humid and enjoyable.