Restaurant Kiela
Taste of Lapland
Local cuisine and the real taste of Lapland are the highlights of our á la carte restaurant. On the Kiela menu we have an extensive and delicious range of reindeer, fish dishes, false morel, as well as the specialty Lapp cheese bread. Our chefs prepare dishes with respect to Lappish traditions but with a modern twist.
Here you'll dine in a warm and easygoing atmosphere. Chaîne des Rôtisseurs is a French gastronomic society that nurtures and supports the local food culture and pays tribute to the national cuisine. In 2008 they awarded the Kiela restaurant with their seal of excellence in recognition of the high quality of the food and service.
Menu
In Kiela Restaurant we love local food and get the berries, mushrooms and herbs from here. The fish we serve here was caught in the Nordic waters and the reindeer have herded in the surrounding vast wilderness.
Restaurant Kiela also serves takeaway orders. You can place your order by calling +358 16 831 931.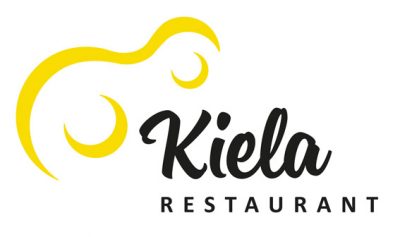 Appetizers
Salmon soup LG
creamy or clear soup, with rye bread and butter
12 / 19 €
Creamy artichoke soup LG
creamy soup, dried reindeer meat, withrye bread and butter
9,90 / 18,90 €
Reindeer chuck LG
served with an apple-cranberry relish and pickled root vegetables
14,20 €
Salmon from Naruska VL G
salmon gravlax from Naruska, roe, marinated potatoes and pickled cucumbers
14,30 €
Starter salad G V
green salad, cucumber, marinated tomatoes, pickled root vegetables, pomegranate
8,80 €
Salads
Salmon salad
salmon gravlax, green salad, cucumber, marinated tomatoes, pickled root vegetables, pomegranate
22 €
Chicken salad
chicken, green salad, cucumber, marinated tomatoes, pickled root vegetables, pomegranate
19 €
Salad with goat cheese
green salad, cucumber, marinated tomatoes, pickled root vegetables, pomegranate
Main dishes
Risotto LG
with seasonal ingredients
21 €
Cajun chicken
in red wine sauce, served with risotto and root vegetables
22 €
Fish of the day LG
Locally fried fish and side dishes of the day, served with roasted and seasoned Lappish potatoes
- €
Meat dishes
Reindeer fillet
madeira sauce with false morels, seasonal root vegetables, thyme potatoes
39 €
Beef Café de Paris LG
Café de Paris sauce, fried root vegetables, potatoes
36 €
Pork Ribs
Fried potato wedges, coleslaw, BBQ-mayo
28 €
Sautéed reindeer roast
served with mashed potatoes, lingonberry jam and pickled cucumbers
34 €
Burgers
House burger
beef patty, smoked cheese, onions, served with house burger sauce
21 €
Reindeer burger L
Gurpa-smoked reindeer steak, Lappish bread cheese, false morel stew
24 €
Vegan burger
Vegan vegetable steak, topped with vegan cheese pickled red onion, aioli
21 €
Chicken burger L
Finnish chicken fillet, topped with devil's mayo and goat cheese
21 €
Bear burger
bear meat from Salla, topped with Béarnaise sauce, smoked cheese, pickled red onion
29,50 €
Lappish potato fries
Lappish potato fries
4,90 €
Kids menu
Sautéed reindeer à la Sallatunturi LG
mashed potatoes, lingonberry jam and pickled cucumbers
16 €
Fish of the day LG
served with vegetables and roasted Lappish potatoes
- €
Chicken fillet L
Finnish chicken fillet, served with french fries and mayo
13,10 €
Lappish potato fries
Lappish potato fries
4,90 €
Desserts
Cloudberry parfait
cloudberry sauce and crumble
11,90 €
Bread cheese LG
in brown sugar cream, berries
12,10 €
Panna cotta à la Sallatunturi
strawberries and rhubarb from Salla
12,30 €
Ice Cream Scoop
spruce sprout, chocolate, vanilla, strawberry, raspberry sorbet, chocolate (vegan) or vanilla (vegan) or strawberry (vegan)
4,80 €
Sauce
caramel, strawberry, chocolate, salty licorice
1 €